Reading & Thoughts from July

Issue #34 // *|DATE:F j, Y|*
Read in Browser
---
Programming notes:
I'm trying out a new format for the newsletter, featuring one recommendation from each category. Let me know what you think!

I'm currently running this newsletter through Mailchimp, but I'm thinking about migrating it to Substack. Bad idea? Good idea?

I'm planning on renaming the newsletter for fun. Here's a bad one: "Ideation Sublimation"
---

Today at a Glance:
Quote: Einstein on thinking differently

Reading: Skymall --> Instagram

Podcast: What job does a McDonalds milkshake serve?

Tweet: Ideation Validation

Product: Weather by Location

Idea: Sports Matching
 #QUOTE 
---
"We cannot solve our problems with the same thinking we used when we created them." - Albert Einstein
This is because the problem we are solving isn't actually a problem. The problem that we created is deeper and solve it, you have to think differently. It's difficult to break old habits of thinking, and one way to get out of it is starting from the basics without any assumptions.
 
 #READING 
---
Instagram Has Become SkyMall
/debugger

Have we run out of ideas to create? Is this just bringing us infomercials in a new way? And do people actually buy this crap?

What I really think is happening is that maybe these products are simply being tested to see if people actually buy them and then
 
#PODCAST
---
Revisiting "Jobs To Be Done" with Clayton Christensen
//hbr

The jobs-to-be-done framework is an approach to developing products based on understanding both the customer's specific goal or "job," and the thought processes that would lead that customer to "hire" a product to complete the job.

In this episode, Clayton Christensen discusses practical applications of jobs-to-be-done, with one of my favorite examples, the McDonalds Milkshake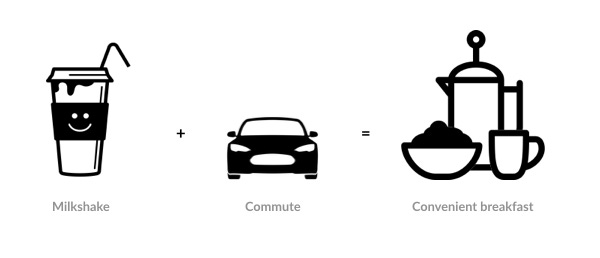 Listen on Apple Podcasts
Listen on Spotify
 
#PRODUCT
---
The Well-Tempered Traveler

Find the best place to go when the weather is good by simply looking at this grid! So easy to visualize and avoids you Google-ing, "best time to go to [insert location]."
 
#TWEET
---
Startup Crossfit
//alexlieberman

Ideas are worthless without execution. But also, don't waste your time on a worthless idea without validation. I love what Alex does to break down the idea of a haircut-at-some startup--but to take it a step further, it would be great to test out some of his concerns to see if they can be mitigated.

 
#IDEA
---
Lunchclub for Sports

Lunchclub is an AI superconnector that makes introductions for 1:1 video meetings. Its cool, but sometimes I just want to get outside and play some sports. The problem is that I can't always find someone to play with. For example, let's say I want to play tennis and none of my friends can come? I don't end up playing tennis.