Bathroom locks, Math vs. Burgers, & More
Issue #36 // *|DATE:F j, Y|*
Read in Browser
---
Today at a Glance:
Quote: Overthinking

Reading: Burgers or Math?

Podcast: Play-to-Earn Gaming

Product: f*** you pay me

Tweet: Bathroom locks

Idea: wheretostay
 #QUOTE 
---
"Don't get too deep, it leads to overthinking, and overthinking leads to problems that don't even exist in the first place." –Jayson Engay
Overthinking is the process of connecting pieces that didn't matter in the first place. It is a symptom of a lack of structure from the beginning and leads to drowning in thought. 
 #READING 
---
Why No One Wanted A&W's Third-Pound Burger
//mentalfloss

What would you buy?
McDonald's Burger: 1/4 lb, $1.00

A&W: 1/3 lb, $1.00 (and tastier)
Know your user, psychology always beats logic.
#PODCAST
---
Sky Mavis: The Builders Behind Axie Infinity
//businessbreakdowns
Listen on Spotify

Business breakdown of Sky Mavis, known for the NFT-based game, Axie Infinity. Axie Infinity is a play-to-earn, blockchain-based game. Axie Infinity has witnessed incredible scale, from $100K revenue in January to $360M in August.

I recently started building out a team in Axie Infinity, and if you want to learn more from a similar podcast, check out: Gabby Dizon - Mapping the Metaverse Economy
 
#PRODUCT
---
f*** you pay me
Think of it as "Glassdoor" for creators. As a creator myself, I've always wondered if I was getting screwed over when taking on affiliate and direct deals with brands. With FYPM, there is now a source of truth. As the creator economy continues to grow, FYPM will enable transparency that rely on this income.
#TWEET
---
Real world tech debt; should have built a better locking system.
I went into the bathroom on the Amtrak train and I was struggling to lock the door. When I finally figured it out, a light turned on. I thought it was pretty smart -- a complicated lock and you're not sure whether the door is locked or not -- now solved with a simple light.

On one hand, this is smart, but this is also bad design. Instead of adding unnecessary complexity, why not just build a better locking system?

I'm sure there is a lot going on here that I'm not thinking about:
Low production rates (e.g. not too many trains)

Pre-built 3p locking systems (potentially cheaper too)

This could have been an iteration -- first with the locking system and then customers complained, so they drilled a hole and did some basic wiring.
I am impressed that they figured to include a light though!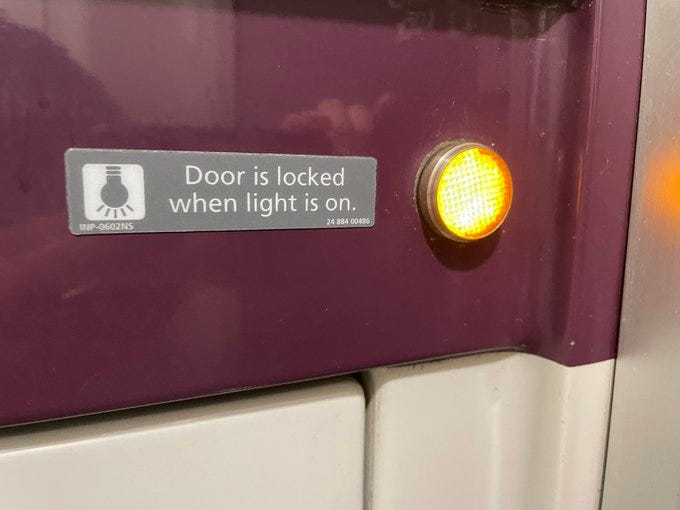 #IDEA
---
wheretostay

Whenever I am traveling to a new city, I go through the painful process of determining my entire itinerary before choosing a location. You've got to make sure you're in a safe area, walkable to restaurants and tourist sites, and so on. 

There should be a product that simplifies this process and simply determines where is the best location to stay based on what you're looking for.

For example, if you're traveling to San Francisco as a tourist, simply use geolocation data to determine where is the highest concentration of tourist attractions. Hint: this is probably Fisherman's Wharf.