Retirement, Biological Age, Amazon Aggregation, & More

Issue #38 // *|DATE:F j, Y|*
Read in Browser
---
Today at a Glance:
Quote: Take advantage of opportunities

Reading: Reversing Biological Age

Tweet: Time = Money

Podcast: Amazon Aggregation

Product: Everyday Habit Tracker

Question: Retiring Tomorrow
 #QUOTE 
---
"Opportunities come infrequently. When it rains gold, put out the bucket, not the thimble" ― Warren Buffett
And when the right opportunities do come, take advantage of them. Most people are worried about being wrong, but it is better to be right 10% of the time versus missing 100% of opportunities by sitting on the sidelines.

The only way to know when it is the right opportunity is to know what to look for without pure luck.
 #READING 
---
Project Blueprint
//bryanjohnson
After reading this project, you're starting to realize that their vision is to enable people to live forever. Today, it simply starts with the measurement of organs, ranked areas with potential for maximum gains, and reverse the quantified age of each organ.

I hope this moves the healthcare system from reacting to emergencies and solving with pills to proactively measurement and optimization.

Check out the measurements here.
#TWEET
---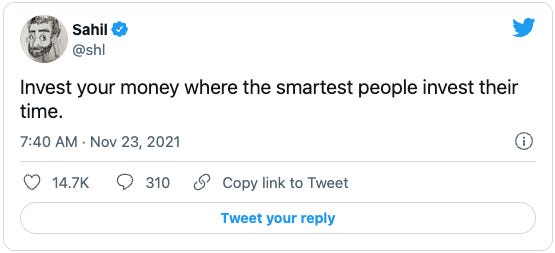 Time = Money
If the smartest people are passionate about spending time on something, there is likely some opportunity for investment. While crypto is the obvious one here, there are many forward-looking trends. Some being:
mRNA technology (Moderna)

Government Technology (Internet, GPS, etc)
#PODCAST
---
Amazon Aggregators: Buying Third-Party Sellers
//businessbreakdowns
When I started selling on Amazon in 2015, I had no idea that the industry would get as big as it is today. I figured that Amazon would completely close out 3rd-party sellers and become a complete walled garden. Now, it looks like Amazon is completely embracing 3rd-party sellers, which has led to Amazon Aggregators (one of the most well-known is Thrasio), which buy these 3rd-party sellers in order to optimize their products.

In this podcast, they break down the $8b investment in this $50b industry.

Listen on Spotify
Listen on Apple Podcasts
 
#PRODUCT
---
Everyday Habit Tracker
//everyday.app
A simple habit tracker for Chrome.
#QUESTION
---
If you were to retire tomorrow, what would you do that you aren't doing today?